"THAT RAGGED OLD FLAG"
(Author Unknown)

I walked through a County Court House square.
On a park bench an old man was sitting there.
I Said, "Your old Court House is kinda run down."
He Said, "No, it will do for our little town."
I Said, "Your old flag Pole is leaning a little bit.
And that`s a ragged old Flag you`ve got hanging on it."
He Said, 'Have a seat," and I sat down
"Is the first time that you`ve been to our little town?"
"Well," he said, "I don`t like to brag,
But we`re kinda proud of that ragged old Flag.
You see, we got a little hole in the Flag there,
When Washington took it across the Delaware.
And it got powder burns, the night Francis Scott Key,
Sat watching it, writing "Oh Say Can You See."
And it got a bad rip at New Orleans,
When Packingham and Jackson took it to the scene
And, it almost fell at the Alamo beside the Texas Flag
But she waved on through
She got cut with a sword at Chancerville,
And she got cut again at Shilo Hill
There was Robert E. Lee, Bouregard and Bragg
The South wind blew hard on that Old Ragged Flag
On Flanders Field in World War One
She got a big hole from a Bertha Gun
She turned BLOOD RED World War Two,
And she hung limp and low a time or two
She was in Korea and Vietnam
She went from our ships upon the briny foam
Now they`ve about quit waving her back here at home
In our good land she`s been abused,
She`s been burned, dishonored, denied, and refused
And the Government for which she stands
Is scandalized through out the land
She`s getting threadbare and she`s wearing thin,
But, she`s in good shape for the shape she`s in
Because she`s been through the fire before,
I believe she can take a whole lot more
So we raise her up every morning, and we
Take her down every night,
We don`t let her touch the ground,
and we fold her up right,
On second thought, I DO LIKE TO BRAG,
BECAUSE I`M MIGHTY PROUD OF THAT RAGGED OLD FLAG.

---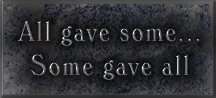 NAME
JAMES ATLEE WHEELER

RANK/BRANCH
03/US Air Force

UNIT
(unknown, per USAF)

DATE OF BIRTH
10 February 1933

HOME CITY OF RECORD
Tucson, AZ

DATE OF LOSS
18 April 1965

COUNTRY OF LOSS
South Vietnam

LOSS COORDINATES
1002921N 1045451E (VX906594)

STATUS (IN 1973)
Killed/Body Not Recovered

CATEGORY
2

AIRCRAFT/VEHICLE/GROUND
A1E

OTHER PERSONNEL IN INCIDENT
(none missing)
---
SOURCE
Compiled by Homecoming II Project
01 September 1990
from one or more of the following:
raw data from U.S. Government agency sources,
correspondence with POW/MIA families,
published sources, interviews.
---
REMARKS
CRASH - TARGET AREA
---
SYNOPSIS: The Douglas A1 Skyraider ("Spad") is a highly maneuverable, propeller driven aircraft designed as a multipurpose attack bomber or utility aricraft. The A1 was first used by the Air Force in its Tactical Air Command to equip the first Air Commando Group engaged in counterinsurgency operations in South Vietnam. The aircraft was retired in the spring of 1968 and had flown in more than twenty model variations, probably more than any other U.S. combat aircraft.

Capt. James A. Wheeler was the pilot of an A1E assigned an interdiction mission about 10 miles south of Tinh Bien in South Vietnam on April 18, 1965. The target area, very close to the Cambodian border, was in Chau Doc Province. During Wheeler's dive bombing attack, his aircraft was seen to release a fragmentation bomb which detonated immediately. The aircraft dived straight into the ground trailing fuel and smoke and exploded on impact. It was determined that Wheeler could not have survived.

James A. Wheeler is listed among the missing because his remains were never recovered. Others who are missing do not have such clear-cut cases. Some were known captives; some were photographed as they were led by their guards. Some were in radio contact with search teams, while others simply disappeared.

Since the war ended, over 250,000 interviews have been conducted with those who claim to know about Americans still alive in Southeast Asia, and several million documents have been studied. U.S. Government experts cannot seem to agree whether Americans are there alive or not. Detractors say it would be far too politically difficult to bring the men they believe to be alive home, and the U.S. is content to negotiate for remains.

Well over 1,000 first-hand, eye-witness reports of American prisoners still alive in Southeast Asia have been received by 1990. Most of them are still classified. If, as the U.S. seems to believe, the men are all dead, why the secrecy after so many years? If the men are alive, why are they not home?
---





Since counter was reset
to zero in May 2000

Patriots have dropped in